Counter and retail areas:

Come on in!

Easily seen from Lorna road, just one block from the intersection of Rocky Ridge Road and Lorna Road, our shop sits on a corner lot with ample parking for even the busiest of days. Just look for our sign.

Check in and check out at Hoover Shoe Repair is a breeze, it's all computerized! Two computer stations get you in and out in a hurry.

Our computer system speeds up the process of check in and check out, and also ensures your work will be done on time, every time. Best of all, your items will never get lost! Did you forget to pick up your items? No problem! Our computer tells us who has left their items here, and we will call you with a friendly reminder.

Shelves full of repair work, just waiting to be picked up by their owners. Each pair of shoes is bagged with a tracking tag containing a barcode, which is scanned by our computer at checkout. No need to keep up with your claim check.

Hoover Shoe Repair has a spacious retail area, full of leather goods, shoe care items, and accessories for your shopping needs. If we don't have an item you need, let us know and we can order it for you.

Here you can see three different full lines of liners and inserts, as well as orthopedic cushions and shoe stretchers.

Baseball glove laces, shoe laces, shoe horns, and more.

Beautiful leather goods, including wallets, belts and leather bags from Fossil.

Repair area:

Here's the men's shoe repair bench. Full soles and heels and half-soles and heels are torn down, glued back together, and cut to shape here.

Ladies shoe repair bench, everything from rubber heel taps to new soles and heels are performed here. Folks love to come in and watch Tony work on ladies shoes through the window to the retail area.

Here's a wide shot of the sewing room. Leather repairs and handbags are sewn on the sewing machine in the front, in the back you can see the machines that sew soles to shoes.

More in the patching room, see the band saw, auto-soler (for putting heel bases on shoes), and Landis McKay sewing machine for soles.

Dye booth. We dye satin shoes, and leather shoes as well. Here's where the magic is done.

The Finisher. Shoes are sanded down and made ready for new soles on the wheels to the left. Trimming and polishing shoes also happens here. This photo was taken on a rare occasion where the finisher was nearly clear of shoes.

We moved! After 25 years, we moved into the building directly behind the old one on Lorna road. It's really easy to find! Just take a right onto Lorna road from Rocky Ridge road, and the next street is Chapel Hill road.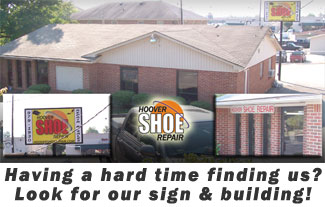 We are a full service shoe repair shop, including but not limited to; military and police / fire boot repair, full soles and heels, half soles, rubber heels, leather patching, handbag repair, luggage repair, and much more. Hoover Shoe Repair uses only super prime leather and Vibram men's top lifts. We use CT heel tips and Soletech rubber top lifts on ladies heels. We would be happy to look at your item and give you a free estimate.

Ordering a repair is easy! Just fill out our easy-to-use order form, and a shipping label and work order form will be created for you. Then, you just mail us your shoes, and the work order. Upon receipt, we will invoice you through paypal, and in a few days you will be wearing your good-as-new favorite shoes!